From Betty Crocker to feminist food studies
From Betty Crocker to feminist food studies : critical perspectives on women and food
Arlene Voski Avakian, Barbara Haber, editors.
Amherst : University of Massachusetts Press, c2005.
Shields Library HQ1111 .F76 2005 Regular Loan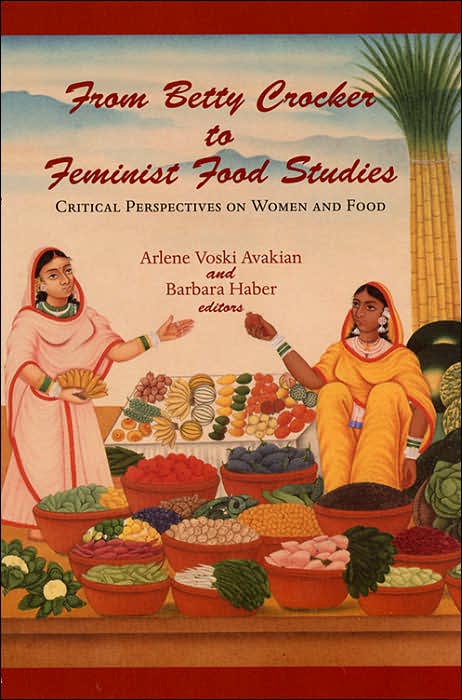 Bibliography Includes bibliographical references and index.
Contents Feminist food studies: a brief history / Arlene Voski Avakian and Barbara Haber -- "I guarantee": Betty Crocker and the woman in the kitchen / Laura Shapiro -- Counterintuitive: how the marketing of modernism hijacked the kitchen stove / Leslie Land -- Feeding baby, teaching mother: Gerber and the evolution of infant food and feeding practices in the United States / Amy Bentley -- Domesticating the restaurant: marketing the Anglo-American home / Jan Whitaker -- Martha Ballard: a woman's place on the eastern frontier / Nancy Jenkins -- Cooking to survive: the careers of Alice Foote MacDougall and Cleora Butler / Barbara Haber -- Women under siege: Leningrad 1941-1942 / Darra Goldstein -- Hiding gender and race in the discourse of commercial food consumption / Alice P. Julier -- Indian spices across the black waters / Sharmile Sen -- The border as barrier and bridge: food, gender, and ethnicity in the San Luis Valley of Colorado / Carole M. Counihan -- Women who eat too much: femininity and food in Fried Green Tomatoes / Laura Lindenfeld -- Chili peppers as tools of resistance: Ketan Mehta's Mirch Mahala / Beheroze F. Shroff -- Shish Kebab Armenians?: food and the construction and maintenance of ethnic and gender identities among Armenian American feminists / Arlene Voski Avakian.
Subject
Women -- Social conditions.
Food -- Social aspects.
Cookery -- Social aspects.
Feminist theory.
Add.Entry
Avakian, Arlene Voski.
Haber, Barbara.